Diablo 3 Ivy Bridge Gaming PC Promotion
- Expired -
- But New Update coming soon -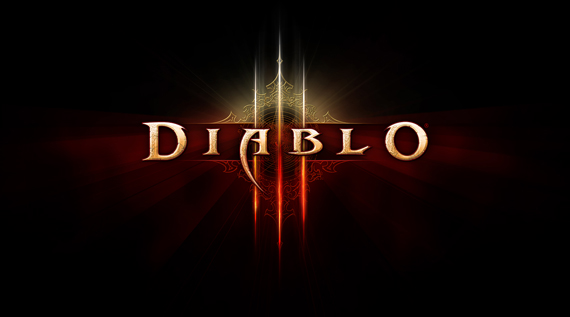 Are you looking for the best gaming computer system, for the most anticpated game released by blizzard, in Singapore?
Look no further.
The diablo gaming PC specs is coupled with the latest 3rd generation of Intel CPU, which will ensure that you have the best possible gaming experience.
Diablo 3 Gaming Computer
CPU and Mainboard

Intel Ivy Bridge 3rd Gen i5-3450 @ 3.1Ghz with H77 Mainboard (Quad Core)

Memory
DDR3-1333Mhz 8Gb Ram
Hard disk
Sata III 500Gb Hard Disk
Optical Drive
22x Sata DVD Writer
Graphics
Nvidia GTX 560 Ti 2Gb / AMD 7850 2Gb
PSU
80PLUS Certified Bronze 500W Power Supply Unit
Case
Branded Midtower Case
Operating System
Windows 7 Home Premium 64Bit
Misc

USB 3.0 x2 @ Back Panel
At least 4 USB2.0 Ports at back panel
2 USB at front panel.
Installation + Home delivery

Price

S$ 1300 Nett
Optional Upgrade: Upgrade the Graphics Card to Nvidia GTX 570 1280Mb for only $30!
According to Blizzard Website, http://us.battle.net/support/en/article/diablo-iii-system-requirements, the recommended setting for the diablo 3 is a CPU with a speed of Core2Duo 2.4Ghz or higher, 2Gb memory using either Nvidia Geforce 260 or AMD's 4870 Graphics Card.
The system as list above far exceed the recommended hardware setting as listed by blizzard.
- Expired -
- New Singapore Gaming PC System Promo -
Below is a testimonial from one of the happy owners of the diablo 3 gaming system built by S-Mall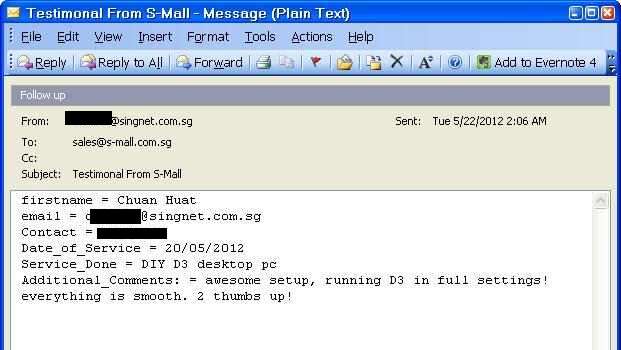 Click to enlarge (open in a new window)
If for some reason it does not show up, the comment is "awesome setup, running D3 in full settings! everything is smooth. 2 thumbs up!"
Don't you want a lagless gaming experience!?
Below is a youtube video which was sourced from youtube. The creator of the video is using the same gaming graphics card, probably a 1Gb version,(S-Mall uses the 2Gb version), with no lag!
- Expired -
- New Computer Gaming DIY System Promo -
If you are looking for the perfect gaming system to enjoy Diablo III, look no further!
Contact us using the form below. Or if you require an ivy bridge diablo 3 gaming system in singapore urgently, drop S-Mall an SMS @ 9171 6803 or whatsapp us at 9171 6803!