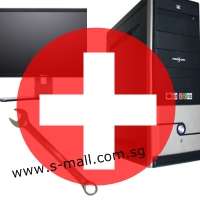 S-Mall Pte Ltd displays our rates proudly on this page and our prices are extremely transparent and competitive and there are no hidden costs. Upfront, we will provide a quotation on the phone, SMS, Whatsapp or via email, based on the problems described to us by you.
We strongly believe in giving additional priceless value for you, such as longer warranty, after a completed PC repair service or additional free pc services such as quick optimisation of your PC after repairs.


Clear Explanation
Have you encounter situations where the PC technician does his own job repairing your computer and suddenly he informs you that the PC is repaired?
Along the course of PC service, we will explain what we are doing and some of the precautions for you to avoid the problems again in the future.
Even while on your first call to S-Mall, we try to diagnose what happened to your system, from the symptoms you provided to us. Blue screen, unable to login to windows? Call us and tell us your problems!
Response time
We are proud of our response time to solve your problem and there are no additional prices for our speedy response to you during working hours. Try calling us, sms-ing us or even email us to test our responsiveness!
Call us at9171 6803to solve your computer problems NOW
Pls SMS or Whatsapp if phone is not answered, we might be busy in repairs :)
** Slower responses to be expected after working hours and weekends. S-Mall will still try to response ASAP during this interval
Flexible Timing
S-Mall does not have a rigid 9am - 5pm working hours. We understand that most people are working during this period and need enjoying precious family bonding time after working hours and hence require our onsite service in the evening for home users who requires home pc assistance.
No Hourly rate for PC repair services by S-Mall
Some malicious companies drag their repair tasks for hours, to do a simple PC repair which could be completed in 15mins, to maximise their earning.
Upfront, we quote you a flat rate or range for the given job, based on the symptoms u provided to us. Thus even if the problem stretch for an additional 6 hours or late into midnight, you pay only the rate you are quoted.
We believe in using our valuable knowledge provide PC servicing within the shortest time, yet not compromising the PC troubleshooting job.
And of course, without hourly rate charges, we are able to spend time to run tests on your system to pinpoint the problems your computer is having. And without you feeling the pinch in your wallet from our IT repair services
After troubleshooting a PC problem, we verify with you to ensure that the problem is terminated before we left. No time or day is inconvenient for us.
Call us at 9171 6803 to fix your computer NOW
SMS or Whatsapp 91716803 if phone is not answered, we might be busy in repairs :)
Transportation (Onsite) Charges
Save yourself the hassle and cost of moving the heavy PC to our office and sweating it out to your computer bring it home. We do onsite home pc repair services and office computer services in Singapore.
Sit back and relax in your sofa and wait for us to press your doorbell. Even After office hours and public holidays!
Transport charge at $58 if we visit you to do home PC repair services at your preferred location or at your office.
** Additional onsite fees of $20 for tuas / loyang / senoko industrial area or sentosa location
** Additional after working hours fee from $20 if you prefer to have their appointment timing after 530pm
Here are the common computer repair services requested. Click on each individual blue header for more information on the services and repair charges.
No brand is a limitation for upgrades or repair. We support major laptop brands such as HP, Acer, Toshiba, Fujitsu, Samsung, LG, Dell, Lenovo, Asus, Gateway,Sony and Mac. We can repair and solve your notebook problem!
Any PC Repair Services required not listed here? Contact Us or just drop us a call at 9171 6803 to eliminate your computer issues.
8 Reasons why you choose S-Mall's Pc Repair Service
We try to understand your existing issue via SMS / Whatsapp / phone communication

Explanation of our proposed solution after understanding your issue.

Clear quote provided before confirmation of appointment.

Diagnose Fee at only $20 per system

Cheap and Reasonable Onsite Fee

No Hourly Rate.

Flexible Timing, even at 9pm and Public Holiday at the SAME RATE!**

Lastly, solving your PC problems which is bugging you!
Call us at 9171 6803 to book a schedule NOW
SMS or Whatsapp 91716803 if phone is not answered, we might be busy in repairs :)
**Exclude Singapore Official Public Holiday Period such as Chinese New Year and Christmas period. S-Mall reserves the rights to determine the period of public holiday surcharge period. Late night timing will depend on availability