Computer Hardware Upgrade and Transfer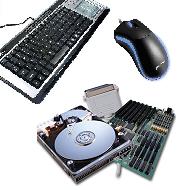 We assist you to upgrade your video cards and increase your memory size (memory upgrade), CPU upgrade and other PC related upgrades for your computer to enable it to run at a faster speed.
Depending on your future needs, we will advise customised computer components upgrades for you.
We transfer the working computer components from your old new to your new PC. The old PC hardware will be cleaned before attached back to your brand new PC.
Usable hardware parts may include, DVD writer, internal 3.5" hard disk, floppy drive, graphics card, power supply, etc.
Check out here for the amazing price to upgrade your computer hardware.
Call us at 9171 6803 to upgrade your PC NOW
Rates from $80 (if your new Pc is purchased from us)
$100 (if the Pc is not bought from us)
Back to Singapore PC repair services