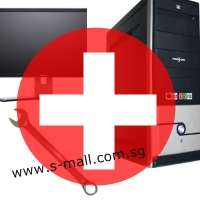 Welcome to S-Mall Pte Ltd
We are a pc repair company provides onsite computer services for both home and offices in Singapore. We fix and solve PC issues and provide PC maintenance services for you.
We are proud of our response time to solve your computer problems. Try dropping us a call during working hours or anytime @ 9171 6803!
At S-Mall Pte Ltd, the brand, such as HP, Acer, Lenovo, Asus, Samsung, and type, Desktop or Laptop, pose no challenge to us as we have the wide technical knowledge and experience to do computer servicing and computer repair and to solve all your PC problems.
We do various computer repair services such as Windows troubleshooting, virus removal and solving your hardware, such as square patches or distorted images on your lcd and software problems, such helping you to solve your windows booting issues.
Other than repairing PC software problems which are using Windows OS, we solve any mac / apple related problem, and solve networking problems such as wireless coverage problems at your home / office for you as well.
Regardless whether you are a small company or home user, you can leave your IT headache to us to provide IT support for you.
Our Computer Repair Services

- Building Custom PC Systems in Singapore only (read more at DIY PC System)

PC will be built accordingly to your budget and usage. System specs as good as the big suppliers, if not better!

- Virus / Malware / Spyware Removal with your data intact.

- PC Network Setup (wireless/wired) for both business and home environment (Singnet, Starhub, Pacific Internet, MyRepublic, viewquest, M1 etc)
- Small business and offices IT / network support
- Domain, Webhosting, Email hosting (G Suite / Office 365 / shared hosting) , transfer, setup and troubleshooting

- Windows troubleshooting and PC Software troubleshooting for all versions of windows. Windows Vista / Windows 7 / Windows 8.1 / Windows 10
- Windows blue screen of death error message (BSOD)

- Onsite technical support / Home Computer Repair Services in Singapore (even after office hours!)
- Solving wireless coverage / connectivity problems for office and home wireless network problems
- Laptop LCD LED screen replacement due to no display / faulty display, solving display and graphics issues, keyboards, mainboard and hardware repair services
- Onsite Diagnosis and services, if possible
- Best of all, solving your computer problems within the fastest period, yet maintaining the integrity of our work and keeping your data safe!

There are too much services that we do to be listed here. For more information about us, go to PC Repair Services to find out more and eliminate your PC problems today!
Call us at 9171 6803 to solve your PC problems NOW
Or WhatsApp us at 9171 6803
Pls SMS or Whatsapp 91716803 if phone is not answered, S-Mall might be busy in repairs :)