For instance, instead of using your preferred adobe reader to open up your PDF files or Excel is not opening your xls spreadsheet?
S-Mall is here to help!
There are basically a quick 1 minute solution to fix your issue.
This is pretty simple to implement. Lets use the PDF file as an example. Instead of using adobe reader to open my files, i wish to use another application to do so.

As you can see from the screenshot above, the test.pdf is to be opened by Adobe reader by default.
Right now, i wanted to be other programs to open my PDF file.
There are other programs that can open PDF files as well. But in this example, my pdf files has to be opened with another PDF reader, called "Foxit Reader"
To change the default program when you open the file, right click on it, go to "Open With" (see below)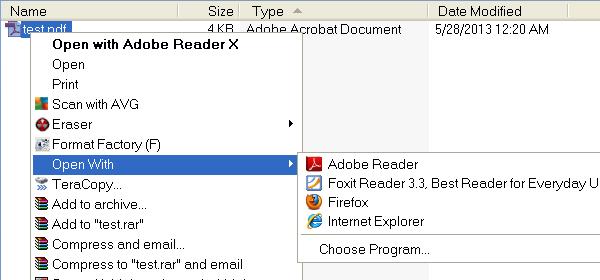 From the screenshot, you can see that windows has detected that PDF files can be opened by adobe reader, foxit reader and other programs.
Instead of rushing to click on "Foxit reader", select "Choose Program" Another window should pop (shown below)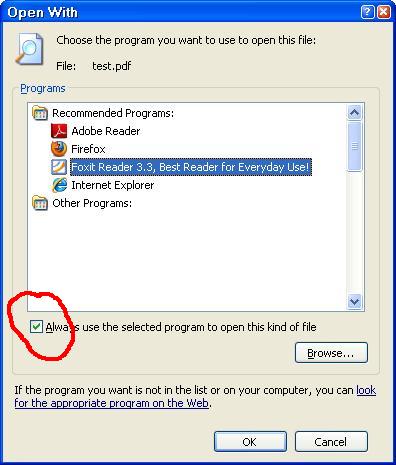 Remember to tick the box, "always use the selected programs to open this kind of file" and select "OK"
And you should have noticed that the icon beside the file has changed. And when you double click on the file, it will use the chosen application to open your file.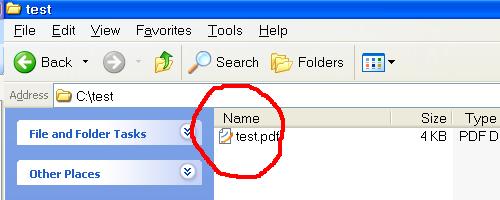 S-Mall uses PDF file and foxit reader as an exmaple. This computer tip can be applied on other commonly used file type, such as xls, doc, ppt, etc.
Hope this helps you to change your default application to open your files
Back to Computer Tips and Tricks